We've donated over £16k to Cornwall Air Ambulance
S t Austell Brewery donated £16,743 to Cornwall Air Ambulance after raising funds from fish and chip sales throughout 2022.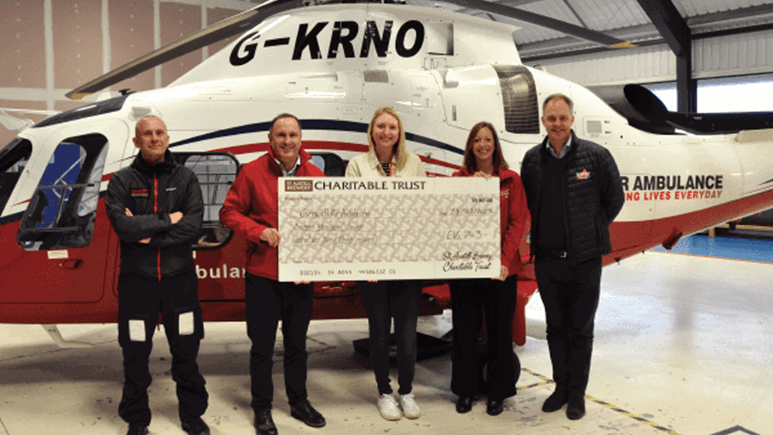 For every portion of fish and chips ordered by a customer, in one of our Cornish pubs, 25p was donated to the Charitable Trust.
Our Charitable Trust has been supporting local charities, good causes, and individuals in need across the South West region since 2003. Through team fundraising and contributions from the business, the Trust has raised close to £950,000, with hopes to reach the £1 million milestone this year.
Cornwall Air Ambulance responds to over 1,000 missions every single year, providing critical care to patients who are seriously sick or injured across Cornwall and the Isles of Scilly.
Piers Thompson, our External Relations Director, said:
"Cornwall Air Ambulance has been saving lives for 36 years and relies on the public to fund its missions. Every day the charity's highly skilled critical care paramedics, doctors, and pilots attend an average of three people in need of urgent critical care. We are delighted to be supporting such a vital charity for our region, thanks to our fish and chip loving customers."
Julia Jeffery, Corporate Fundraising Officer, Cornwall Air Ambulance, said:
"We are incredibly grateful to St Austell Brewery and their customers for this amazing donation, and we want to say a huge thank you. We rely on the generosity of local people and businesses to help raise the vital funds needed to keep your charity running each year. The donation will go towards funding more of our lifesaving work, whether this be specialist medical kit for the paramedics and doctors, aviation costs, keeping the operations running or even paying for fuel for missions in your AW169 helicopter. Every penny donated helps to keep the crew flying to patients who need us the most."