Why visit Devon in October?
I t's hard to paint a more perfect picture than Devon in October. And, with October half term Devon just around the corner, why not book a last minute trip fit for all the family?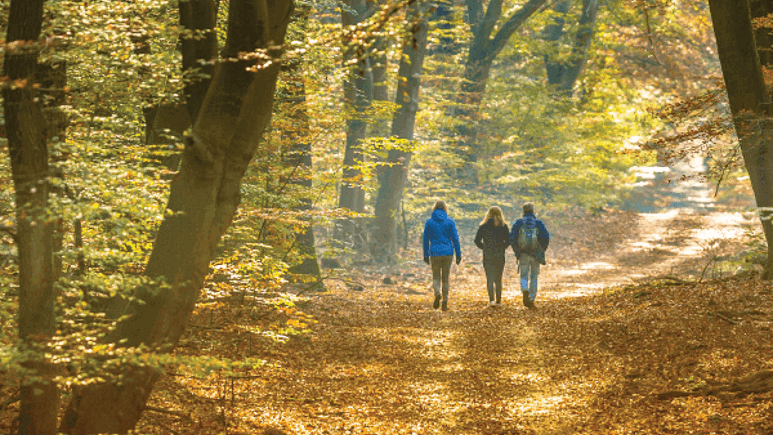 From historic Lynmouth and picturesque Dartmouth, to the quaint chocolate-box village of Topsham, take you pick of Devonshire stays this autumn season. Wrap up and embrace the elements of Exmoor, or take to the rugged coastline before retreating into cosy comfort; there's an array of autumn things to do in Devon as the temperature drops.
And to sweeten the deal on stays in Devon this October, enjoy 20% off with code LASTMIN20 on our three top picks and make memories you'll cherish.
From charming cobbled streets, brimming with independent boutiques to unrivalled autumn walks Devon, you'll be spoilt for choice.
Blue Ball, Lynmouth
Located in North Devon, Lynmouth is truly a hidden gem meaning you'll often enjoy stunning views along the coast path all to yourself. If the howling winds aren't tempting you to a walk in the great outdoors, you'll find plenty of things to do on your doorstep.
A trip to the area would be incomplete without a visit to the Cliff Railway – an incredible feat of Victorian engineering built in 1888 that joins the two towns of Lynton and Lynmouth. Rising over 500 ft, it's the highest and steepest fully water-powered railway in the world, and certainly not just for rail enthusiasts!
If you're looking for another great selfie-spot, head to Rhenish Tower – an iconic symbol of the area. Rich in history, step back in time and discover the tower's original use as salt-water store, used for indoor bathing.
Aside from it's impressive landmarks, Lynmouth's high street has a fabulous selection of arts and crafts shops, vintage boutiques and tiny tearooms – why not indulge in a little home-made sweet treat, while sheltering from any rain that might come your way?  
The Blue Ball in Lynmouth has a fantastic selection of rooms available, whether it's a romantic getaway or week of family fun – plus, you needn't worry about leaving your four-legged friend at home with our dog friendly accommodation in Lynmouth available too!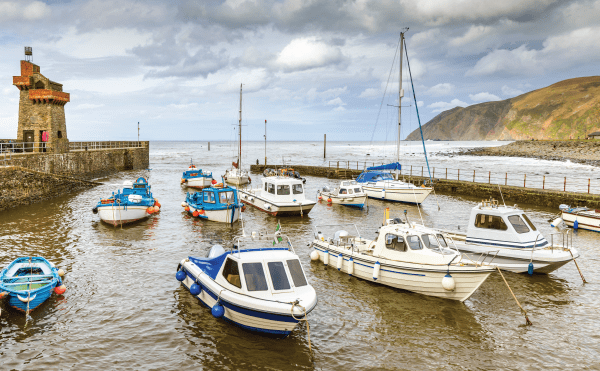 Royal Castle, Dartmouth
Ticked the north coast off your Devonshire bucket-list already? South Devon awaits… Be whisked away to enchanting Dartmouth this October and enjoy enviable views from the comfort of the Royal Castle, perched idyllically on the front.
With Halloween ready to sneak up on us, why not take the family to Pennywell's nearby pumpkin patch, running until the 29th of October? Wander through endless trails, enjoy a little live music, toast delicious marshmallows, and capture endless Instagrammable moments as part of the experience.
Rather getaway from the crowds? Crunch your way through fallen leaves, with autumn walks Devon starting from Dartmouth. Try Blackpool Sands circular walk clocking in at 3.2 miles, which takes you through quiet countryside towards the coast where you'll be rewarded with spectacular coastal views.
If you'd rather stick a little closer to Dartmouth's centre, you can expect a collection of independent boutiques – perfect for a window-shopping ahead of Christmas. Signposted throughout, you'll also be able to sample some of the town's history while you browse, with the famous Mayflower Trail winding its way through the cobbled streets.
Find accommodation in Dartmouth this autumn with a stay at the Royal Castle.
The Globe, Topsham
Just a few miles outside of Exeter, Topsham boasts an eclectic cluster of boutiques and first-class foodie spots, intertwined with a strong maritime flavour. Walk along charming streets, with gorgeously designed 17th-century Dutch-style merchant houses. The Globe sits centre to all this chocolate-box town has to offer, serving as the perfect option for accommodation in Topsham.
Of course, being so close to Exeter – there's a wide range of activities for you to try, whether it's paddleboarding along the Exe, or shopping for a few early Christmas presents! With autumn leaves lacing your path, whatever you do during your stay, enjoy the beautiful backdrop of Devon this fall season.
Be 'Gone with the Wind' – did you know Vivian Leigh is strongly linked to Topsham through her first marriage? Topsham Museum is home to an array of interesting exhibitions, including memorabilia from the famous actress. It's also the perfect place to shelter from any storms that come your way.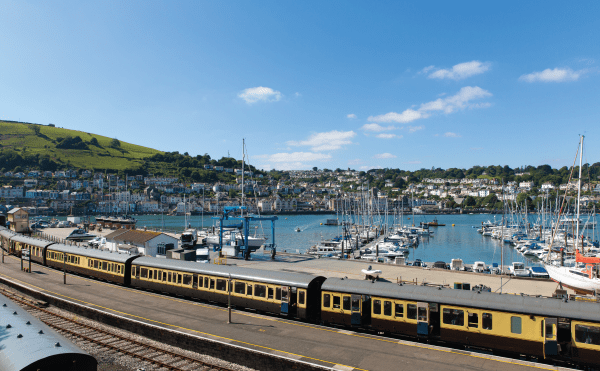 Autumn walks Devon
Grab your wellies and embrace the changing of the seasons, you'll be spoilt for choice with autumn walks in Devon. From woodland walks to challenging hikes along the coast path, find something for everyone.
Explore a few of our favourites in each of our top three picks:
LYNMOUTH TO WATERSMEET CIRCULAR WALK // 5.9km - Lynmouth
A relatively easy stroll to stretch the legs all the while taking in some stunning scenery, this loop is beloved by all in the area. Why not pack a picnic with flask of hot chocolate and enjoy some winter sun on your way?
DARTMOUTH TOWN TO DARTMOUTH CASTLE // 5.8km – Dartmouth
While we've already mentioned Blackpool Sands, this moderate walk from the town to Dartmouth Castle is a must do whilst visiting the area. Combine with a visit to the historic castle for a fantastic day out.
TOPSHAM FERRY & TURK LOCKS // 5km – Topsham
Perfect for the weekend, this walk adds an extra layer of adventure with a quick ferry* ride required to complete the loop. This walk truly has it all, with plenty of refreshment stops dotted along your way.
* Please check ferry times beforehand.
Autumn holidays in Devon
Visit Devon in Autumn and experience the magical changing of the seasons, away from the summer crowds. Use code LASTMIN20 for October stays at the Blue Ball, Royal Castle, and the Globe. 
*Subject to availability.