Three Cornish pubs named among UK's top apprenticeship employers
O ur tenants, Mark Holden and Justin Barnett, have been featured among the Top 50 SME Apprenticeship Employers 2023. Their business, Inn Cornwall, runs three pubs in our tenanted estate: the Norway Inn (Perranworthal), the Victoria Inn (Roche), and the Victoria Inn (Threemilestone).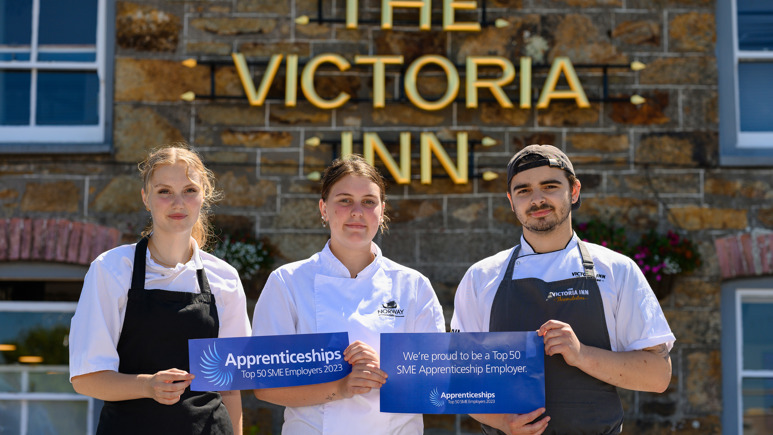 Inn Cornwall has now been listed two years in a row and is the only hospitality business to be featured in the SME top 50. In 2022, they were ranked number 47 and this year they placed higher at number 32.
Mark and Justin who are South West apprenticeship ambassadors have welcomed 17 apprentices in 2022/2023 covering front of house and chef apprenticeships (levels 2 and 3).
The list is produced by the Department of Education and celebrates England's outstanding small and medium sized apprenticeship employers. It recognises their commitment to creating new opportunities, the diversity of their apprentices, and the number of apprenticeships who have successfully achieved their apprenticeships.
Mark Holden and Justin Barnett, Directors, Inn Cornwall said:
"We really value the importance of apprenticeships. These schemes play a huge part in levelling up the Cornish communities that we operate in and increasing social mobility. The progression and development of many of our apprentices are testament to that.
"We're delighted to have climbed 15 places to number 32 this year. A special thanks to our amazing apprentices & their work mentors, for all their hard work, and to Truro & Cornwall College for the support provided by their business teams and lecturers. An additional thanks to our chosen end point assessment provider, the BiiAB. There is a huge amount of work that goes on in the background to help with career progression and promoting the advantages of an apprenticeship scheme and we are all hugely proud to get this recognition."
"Our team have even been invited to a special lunch reception Hosted by Gillian Keegan, Secretary of State for Education, at the House of Commons in September."
Clive Greene, Head of Tenanted Operations, St Austell Brewery, said:
"We're all very proud to see Mark and Justin building on their previous success, and receiving the recognition they deserve for creating so many opportunities for people pursuing a career in hospitality.
"As a business we are passionate about investing in and championing fresh talent within our local communities and people looking to map out their careers. Mark and Justin's work over the years has been the epitome of this."