South West's first Pre-16 Hospitality Academy takes off
T he South West's only pre-16 hospitality academy is celebrating a ground-breaking moment as it welcomes its first cohort. The innovative new collaboration between Cornwall College St Austell, part of The Cornwall College Group (TCCG), and St Austell Brewery saw the first group of Year 10 students attend their welcome day at St Austell Brewery.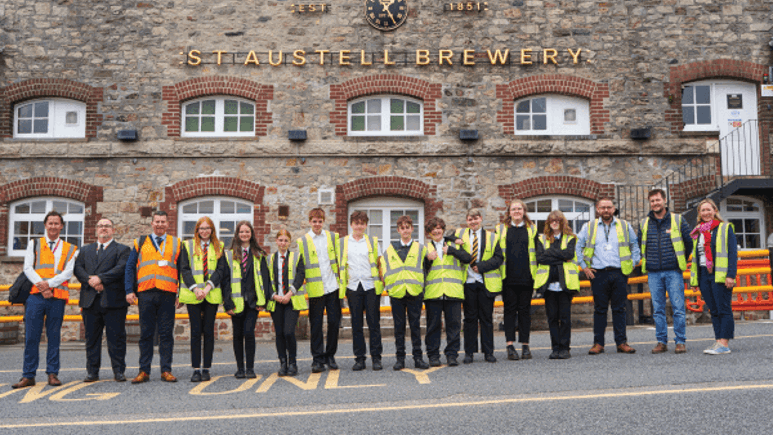 Jon Kelley, Early Careers Manager, said:
"We're thrilled to welcome our first cohort of under 16s onto this GCSE level catering and hospitality course."
"We are really passionate about working with Cornwall College on this project, with a view to making it easier for these young people to get a good footing in their community, through providing them with lasting experiences and key skills that will improve their employment prospects," Jon continued.
"This course offers Cornish pupils a head-start within the hospitality sector and will fast track those who want to pursue a career in this sector onto an advanced apprenticeship as soon as they are ready to leave school."
Students from local schools enrolled on this unique programme will benefit from the latest trends, techniques and resources in the catering and hospitality industry, with access to St Austell Brewery's managed estate of 43 flagship pubs, inns and hotels situated in some of the best locations across Devon and Cornwall.
David Atkinson-Beaumont, the head of campus for Cornwall College St Austell and group lead for pre-16 courses, believes that this partnership will not only provide students with a great educational experience but also set them on a path to exciting careers in the hospitality sector.
David said:
"This programme offers students a tremendous educational experience while also paving the way for exciting and fulfilling careers in the vibrant hospitality sector."
Bradley Cross, year 10 student from Fowey River Academy and one of the learners on the pre-16 hospitality academy programme, expressed his passion for catering:
"My love for cooking started with my grandmother, so I wanted to study catering. This opportunity allows me to meet new people, have fun and learn more about the brewery."
Bradley also mentioned:
"I've previously visited the College with my school and enjoyed making vegetable soup while learning different vegetable cuts. This qualification will help me decide my future career after school, it's a great way into the hospitality industry."
Mason Sanders, another year 10 student from Fowey River Academy, highlighted the value of the opportunity:
"This course provides excellent options for my future career. My dream is to own a bakery, I've always had a passion for baking. I'm excited about the hands-on cooking and learning more about the industry. I'm really excited about this new course."