Heart of the Community campaign launched to fit defibrillators at our pubs
W e've launched a campaign to fit defibrillators onto our pubs, hoping to ensure many of our communities will have access to a lifesaving device.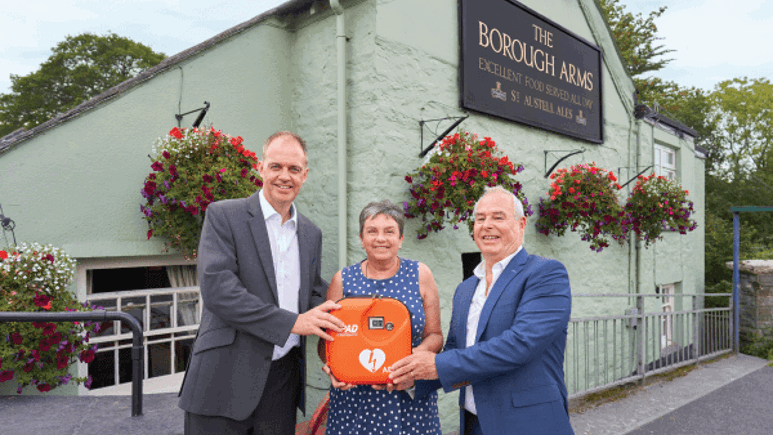 The Heart of the Community campaign was launched after we identified 55 of our pubs in places which don't currently have access to a defibrillator.
The campaign aims to raise money through our Charitable Trust to buy and install them. Pub customers can help save lives by purchasing a portion of fish & chips (25p per portion will go towards the defibrillator campaign) or by scanning a QR code on posters.
St Austell Brewery will match fund every £1 donated by the public. In the UK as many as 100,000 hospital admissions each year are due to heart attacks - that's 260 admissions each day or one every five minutes.
It's estimated that around 1.4 million people alive in the UK today have survived a heart attack - around one million men and 380,000 women.
We have partnered up with the Ronnie Richards Memorial Charity to buy the vital equipment. Co-founders Paul and Liz Williams set up the charity in memory of Liz's brother Ronnie who sadly died from sudden cardiac arrest whilst playing his beloved game of football at Penzance Leisure Centre.
The charity has been fundraising for defibrillators to be installed in schools and public places all over the Duchy for many years and train young people how to use the devices.
Piers Thompson, St Austell Brewery's External Relations Director, visited the Borough Arms in Bodmin last week to mark the installation of one of the first defibrillators.
Piers said: "We're really excited to be working with the Ronnie Richards Memorial Charity and launching this campaign to ensure public access defibrillators are available to many of our pub's local communities.
"We have sites in some of the most popular places in the South West and often in remote locations, whether that be in the countryside or on the coast. Installing lifesaving devices in over 50 of our sites is very important to us and more importantly it will increase the likelihood of lives being saved."
Paul Williams, from the Ronnie Richards Memorial Charity added: "It is a privilege for the RRMC to work with St Austell Brewery on such an essential lifesaving campaign. One person dies every five minutes in the UK from sudden cardiac arrest which can be greatly improved by using a readily available public access defibrillator (PAD).
"A defibrillator shock administered in the first minute has up to 90% chance of survival depreciating by at least 10% every passing minute without delivery. The RRMC targeted closely linked PADs in our towns and villages and a high intensity CPR & AED training program including our secondary schools, increasing the chance for lives to be saved.
"RRMC supplied outdoor 24/7 Community PADs at St Ives' Lifeboat Inn, which PC James Perkin used to help an eight-year-old girl. He was shortlisted for Lifesaver of the Year in the UK Heart Safe Awards. St Ives Pedn Olva Hotel staff Josh Bond was given the British Heart Foundation (BHF) Lifesaver Award for saving a man's life after he collapsed at St Ives Railway Station.
"It speaks volumes for St Austell Brewery's commitment to protecting their staff, community, and visitors. Everybody working together can - and are - saving lives when every second counts in cardiac arrest."